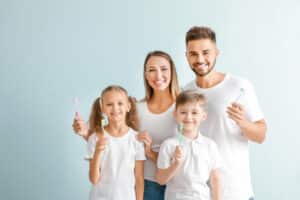 Looking for a Family Dentist in Rockwall? Genuine Dentistry offers comprehensive dental care for your entire family, from toddlers to seniors. Our one-stop-dentistry shop provides everything you need under one roof. Plus, we have a modern facility with the latest technology and equipment to ensure that you receive the best possible care.
What is a Family Dentist?
A family dentist is a general dentist who treats patients of all ages. As a family dentist, Dr. Schweers provides a wide range of dental services for his patients, from preventive care to restorative and cosmetic treatments. With our family dentistry services, you no longer need to drive all around Rockwall, taking different family members to various dental specialists. 
Dr. Schweers also has the training and experience to handle more complex dental problems. By establishing a relationship with Dr. Schweers, patients can ensure that they receive the high-quality care they need throughout their lives.
In addition, Dr. Schweers can provide valuable guidance on maintaining good oral health habits. Whether you are looking for a new dentist for yourself or your family, a family dentist is excellent.
What is the Difference Between a General Dentist and a Family Dentist?
Most people are familiar with the term "dentist," but they may not be aware of the different types of dental professionals that exist. A general dentist provides basic dental care, such as cleanings and fillings.
On the other hand, a family dentist is a dental professional specializing in all the various dental needs of families. In addition to providing primary dental care, a family dentist can also help with more complex procedures, such as braces or tooth extractions. As a result, a family dentist can provide a higher level of care than a general dentist.
When choosing a dentist, it is essential to consider your family's specific needs. For example, if you have young children, you may want to choose a family dentist who has experience working with kids, such as Dr. Schweers. No matter your specific needs, Genuine Dentistry can help you meet them.
What Family Services Does Genuine Dentistry Offer in Rockwall?
Teeth Cleaning:

Professional teeth cleanings are essential for maintaining good oral health. Our team will remove any plaque or tartar buildup on your teeth during the cleaning. We will also polish your teeth to help them look their best.

Dental Exam:

A dental exam is a routine checkup that allows us to evaluate the overall health of your mouth. We will check for any signs of tooth decay, gum disease, or other problems during an exam. We will also take X-rays of your mouth to check for any issues that cannot be seen with the naked eye. 

Dental Fillings:

Dental fillings are used to treat cavities. Cavities are caused by tooth decay, resulting from acidic foods and drinks damaging the tooth enamel. We will carefully remove the decayed material from your tooth during a filling procedure and fill the cavity with durable material. 

Dental Crowns & Bridges:

Crowns and bridges are two common types of restorative dentistry. A dental crown is used to cover a damaged or decayed tooth, while a bridge is used to replace one or more missing teeth. 

Root Canal Therapy:

Root canal therapy is a treatment used to save a tooth that has been damaged by infection. We will gently remove the infected tissue from the tooth during the procedure and then seal it precisely to prevent further damage.

Tooth Extraction:

In some cases, a tooth may be too damaged to be saved. Our team will work to extract the tooth as quickly and comfortably as possible when this happens.
The Best Family Dentist in Rockwall, Texas
Dr. Brian Schweers genuinely cares about your oral health and well-being. Genuine Dentistry is passionate about providing excellent dental care for our patients – and it shows in the results we achieve. We believe in preventative dentistry to promote excellent health. We can help you feel confident about your smile and your health overall.
Schedule an appointment with us today and see for yourself how we can improve the smile of every member of your family.