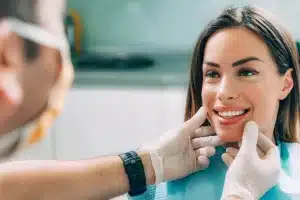 Are you feeling self-conscious about your smile? Do you feel like it is sometimes holding you back? You're not alone. Millions of people feel self-conscious about their teeth. But there's no need to suffer in silence any longer. Genuine Dentistry offers a range of cosmetic dentistry solutions in Rockwall that can give you the beautiful smile you deserve.
We have a team of experienced professionals who will work with you to create a treatment plan that meets your specific needs and goals.
What is Cosmetic Dentistry, and What Are Some of Its Benefits?
Cosmetic Dentist in Rockwall is a branch of dentistry that focuses on improving the appearance of your teeth. We can use it to correct various dental issues, including stained or discolored teeth, chipped or cracked teeth, misshapen teeth, gaps between teeth, and more.
In addition to improving the way your teeth look, cosmetic dentistry can also positively impact your oral health. For example, closing gaps between teeth can help to prevent gum disease and tooth decay.
And cosmetic dentistry can boost your self-esteem and confidence. When you feel good about your smile, it shows. You'll be more likely to smile more often, making a big difference in how you interact with others.
What Can Dr. Brian Schweers Do for You?
Dr. Schweers can do a lot to improve your smile. Here are just a few of the services we offer:
Teeth Whitening: Teeth whitening is one of the most popular cosmetic dentistry procedures. We can use it to brighten teeth that have been stained by coffee, tea, red wine, smoking, or other factors.
Porcelain Veneers: Porcelain veneers are thin, tooth-colored shells that are artfully bonded to the front surfaces of your teeth. We can use them to cover up various dental imperfections, including chips, cracks, gaps, and more.
Invisalign: Invisalign is a popular alternative to traditional braces. It uses clear, removable aligners to gradually straighten your teeth.
Dental Implants: Dental implants are an excellent way to replace missing teeth. They are carefully placed in the jawbone and topped with a natural-looking dental restoration.
What Should You Expect During a Consultation with Dr. Schweers?
When you come in for a consultation with Dr. Schweers, the first thing we'll do is sit down with you and get to know you. We'll ask about your dental history and your goals for treatment. We'll also look at your teeth and assess your individual needs. Once we have all the information we need, we'll develop a treatment plan and give you an overview of what to expect.
We believe that it's essential for our patients to be well-informed and involved in their care. We'll take the time to answer all of your questions and address any concerns you may have. We want you to feel confident and comfortable with your decision to move forward with treatment.
How Much Does a Treatment Cost?
The cost of treatment will vary depending on the specific procedures we perform. We will work with you to create a treatment plan that fits your budget.
We understand that paying for dental care can be a challenge. We work with many insurance providers and can offer financing options. We want to ensure our services are affordable and accessible to all our patients.
A Service For Your Smile's Every Need, Cosmetic Dentist in Rockwall, Texas
You don't have to live with a less-than-perfect smile any longer. With our cosmetic dentistry solutions, you can get a beautiful smile and restore your confidence in the process.
Our treatments are designed to be as comfortable and convenient as possible. Just relax in our comfortable dental chairs while we work on giving you the smile of your dreams. And our office is conveniently located in Rockwell, Texas – so it's easy for you to get the care you need.
Contact us today to schedule a consultation with Dr. Schweers and see what we can do for you. We would love to help you achieve the beautiful smile you always wanted.