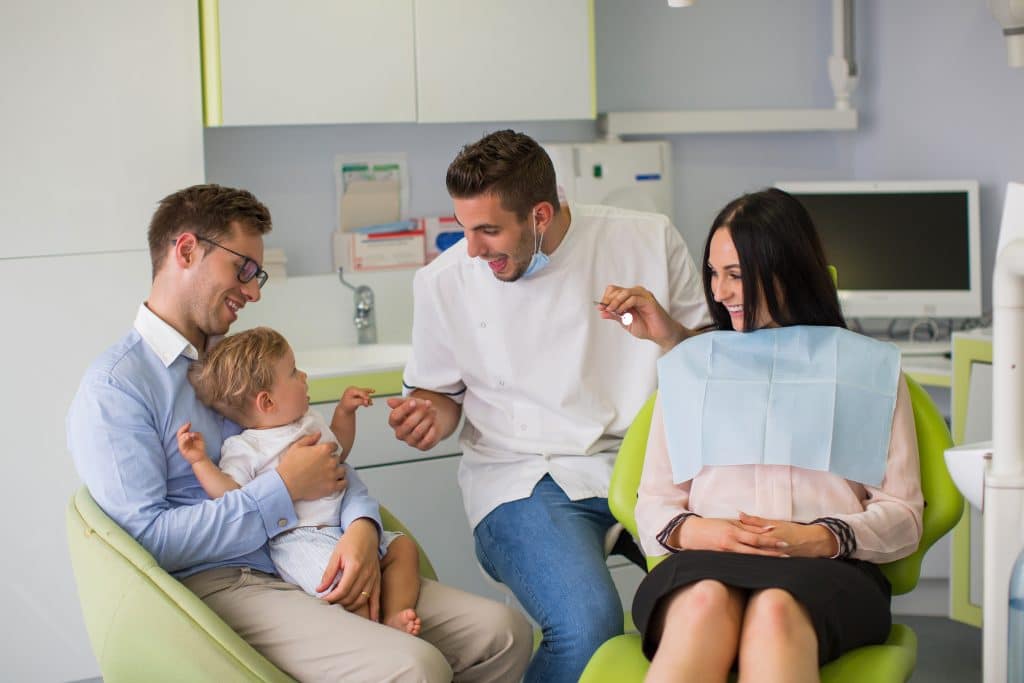 Are you looking for a new family dentist in Rockwall, TX? At Genuine Dentistry, we provide top-rated dental care. Our friendly, caring team is proud to provide the best possible experience for our patients. We offer all the quality dental services you need. We provide a wide range of services, from cosmetic procedures to family dentistry. We also work with many insurance providers to make your treatment affordable. For any insurance or financing questions or to make an appointment with Genuine Dentistry, give us a call today!
Why You Should Choose a Family Dentist for Every Member of Your Household 
Choosing the right dentist for your family is an important decision. Not only do you want to find someone who is knowledgeable, experienced, and caring, but you also want to make sure that you find one dentist who can provide comprehensive care for everyone in your family. Genuine Dentistry offers quality dental care for every household member, from young children to adults.
Comprehensive Care 
When choosing a family dentist, one of the most important factors is their ability to offer comprehensive care. A family dentistry provider, Dr. Brian Schweers, has experience with patients of all ages and can provide preventive care and treatment for any issues that may arise. At Genuine Dentistry, we offer check-ups and cleanings for children starting at age two, and we also provide restorative services for adults, such as tooth fillings and crowns. We also specialize in aesthetic dentistry, such as teeth whitening and veneers. 
Convenience 
Another great reason to choose a family dentist is convenience. When everyone in your family goes to the same dental office, it makes scheduling appointments much easier since you won't have to worry about coordinating multiple visits with different offices. Additionally, suppose someone in your family has an urgent dental issue, or an emergency arises. In that case, it's much easier to get them seen quickly by their regular dentist than trying to find an available appointment time at another office. 
Familiarity & Comfort Level 
Finally, another benefit of choosing a family dentist such as Dr. Schweers is familiarity and comfort level. Knowing your dentist or hygienist can be especially helpful for younger children who may be nervous about visiting the dentist—the more familiar they are with their surroundings, the better! When everyone in your family visits the same office regularly, they will become accustomed to the staff and environment, which can create a feeling of comfort during appointments.  
The Rockwall Family Dentistry Services We Offer
At Genuine Dentistry, we offer a wide range of family dentistry services for patients of all ages. If you need a routine check-up, we have you covered. If you need more complex treatment, such as root canal therapy, we can handle that too. Some of the services we offer include:
Cleanings and check-ups are one of the most vital family dentistry services. Regular check-ups are necessary to keep your family's teeth healthy, and we provide comprehensive cleanings that remove plaque and tartar buildup that can contribute to cavities and gum disease.
If someone in your family has a cavity, our team can provide tooth-colored fillings to restore the affected tooth. Our composite resin fillings blend in seamlessly with your family's natural teeth and can last for years with proper care.
If you're looking to improve the aesthetics of your family's smiles, we offer both veneers and teeth whitening services. Veneers are a great way to cover up chipped, stained, or misshapen teeth and can provide an instantly whiter and brighter look. Teeth whitening is also an excellent option for restoring the brightness of your family's smiles.
Our experienced family dentistry team is here to help your family restore and maintain optimal oral health. 
Your Family Dentist in Rockwall, TX
Choosing the right dental provider for your entire household doesn't have to be complicated. At Genuine Dentistry, we understand how important it is for families to have access to quality dental care close by—which is why we strive daily to provide our patients with comprehensive care tailored specifically to meet their individual needs! If you're looking for an experienced and caring family dentist near you, contact us today! 
We look forward to hearing from you!